I don't think mental health should be this big scary thing. It shouldn't be 'you're a man so man up' or, if you're a woman, 'you're overthinking it.' Talking about things really helps and exercise really helps – it's one of the most important things for mental health.
Growing up as kids, many of us would have participated in the classic Aussie ritual of mimicking our favourite sporting legends. Boldly claiming to be the next Cathy Freeman, Shane Warne, Serena Williams or James Hird while taking on our mates in the fiercest of backyard competitions. And for former AFLW player Moana Hope, this ritual is no less true.
From these humble backyard beginnings, Moana, or Mo as she's more often known, went on to become one of the AFLW's most successful players. We caught up with Moana to understand how sport has helped transform her life and overcome her own personal challenges.
Overcoming anxiety, fostering friendships and supporting mental health
Despite the confident and laidback image she presents, Moana recalls having bad social anxiety when she was younger and first began playing football.
"When I went to one of my first training sessions I couldn't even get out of the car. But once I got in there and got around the girls, not only did I overcome something that was normally so hard for me, but I was able to make friends and have a laugh," Moana says.
"I think that's why sport's so invaluable for your mental health, to have that outlet and to laugh."
For Moana, sport and exercise have played a big part helping with her own stress and mental health struggles. She exercises every day if she can and has resumed playing footy for the St Kilda Sharks – the local club she played for prior to joining the AFLW.
"I started playing again because I needed an escape, a place I can go to drown out everything else that's happening around me.
"If I go a couple of days without training, I literally get in my own head and I feel down on myself. For me, it gives me an amazing outlet and that's why I try and do something every day. Even If it's just a walk."
Finding your sporting family
For Moana, playing sport has made her who she is. More than a mood booster and anxiety reliever, what she loves most about it is the team environment.
"Sport feels like your home away from home. When you have a team, you gain a family. You want to defend them, protect them and support them. All of that is so uplifting."
Moana says she also loves playing sport because it means she gets to come together with so many different people from different backgrounds.
"Some are mums, some are daughters, some are business women. Everyone's different and at different fitness levels. There's nothing that motivates me more than training with a team and seeing someone different to me, pushing themselves."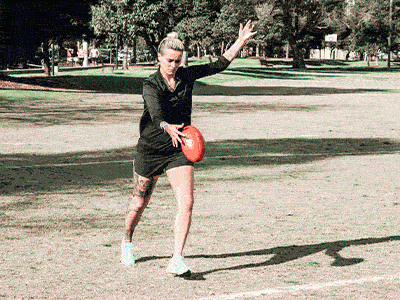 Inspiring young girls to answer the call of sport
In today's day and age, there's a lot of pressure on kids and young adults to look and live their lives a certain way. If Moana could give one piece of advice to young girls looking to get involved in sport, it's to be yourself, be unique and own that fact.
"Don't waste your time trying to fill someone else's shoes. Embrace you for you. If you want to be an AFLW star, then go and do that. Don't let anyone tell you that you can't. It doesn't matter what you want to do, do what makes you happy."
Growing up, Moana's first footy experience was having a kick with her brothers in the backyard or at the local oval. She recalls never being treated like one of the boys, or like a girl; she was simply treated as a teammate. As a proud gay woman with a wife and beautiful baby girl, Moana understands the power sport has to bring different people from different backgrounds together.
This is why she believes team sports are so important and why she wants to see more kids getting involved – both girls and boys.
Championing the future of women's sport
Moana opened up about her reasons for leaving the AFLW and explains that one of the main factors was that the league's players weren't paid enough to make it their full-time career. Moana herself, as one of the highest paid players at the time, had to also work a fulltime job as the General Manager of a Traffic Management business to pay the bills.
Working 5am to 5pm and then training straight after until 11pm – Moana says she was burnt out, mentally exhausted and didn't have much time for her family during the AFLW season. Because of this, and the toll it was taking on her mental health, Moana decided to focus on her existing career so she could support her family.
Moana believes there are many steps left until we can achieve true gender equality in professional sport, but she intends to do everything in her power to help female footy players become full-time athletes.
"The AFLW's already committing to more teams which is amazing, but if they can at least commit to higher pay, then the players can choose whether they work or don't work so they're not exhausted," Moana says.
Playing for you, and no one else
Moana might have left the AFLW but she never left the sport.
While she'll always have a love for the game, her reasons for leaving the professional league also came from the need to focus on her mental health. She says she received a lot of negativity from certain critics both in the press and on social media which had a huge impact on her state of mind.
"I always thought I was unfairly judged by people, based on the fact I was a girl. People tried to compare me to a male instead of letting me be me."
Moana says the hardest part was being measured against the male AFL players, while only being paid a fraction of what they were earning – all while working a full-time job.
"I was judged equally to what they were and that impacted my mental health. I was questioning myself and my ability, and I've never ever questioned my ability."
This is ultimately why Moana decided to return to her local footy club and continue playing. Not because of what the fans or critics would say, but for her and her love of the sport.
"That's how I came to the decision to play again. I needed to have a kick for me. Once I got down to have a kick I felt like that kid in the backyard again."
That being said, Moana says she would definitely consider returning to the AFLW if the league was able to give their players the financial support they need to focus on footy full-time.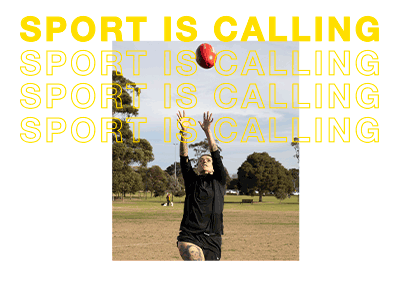 Final words
At the end of the day, Moana strongly believes mental health should be spoken about much more, especially in the sporting world, instead of being such a stigma.
"I don't think mental health should be this big scary thing. It shouldn't be 'you're a man so man up' or, if you're a woman, 'you're overthinking it.' Talking about things really helps and exercise really helps – it's one of the most important things for mental health."
When it comes to the transformative power of sport, Moana knows better than most the importance of playing for you and nobody else.
*The information on this site is not medical advice. It is generic and does not take into account your personal circumstances, physical wellbeing, mental status or mental requirements. Any medical questions should be referred to a qualified healthcare professional.