When you're feeling stressed or anxious, your body thinks you're in danger and releases adrenaline which causes the rapid heartbeat, sweating and shaking that we associate with anxiety – this is known as the fight, flight or freeze response.
We caught up with Aussie actress Sam Frost to discover how the power of exercise and meditation helped transform her life.
"I've been quite open about my struggle with depression, it's been going on for my whole life. And I've found that looking after my physical health has hugely improved my mental health," Sam says.
Sam has lived with depression from a young age and adjusted to life in the public eye following her first appearance on reality TV show, The Bachelor, and now starring as Jasmine Delaney on TV soap, Home and Away.
Sam reveals how meditation and fitness have helped her ride through the ups and downs of life and dramatically impact her mental health for the better.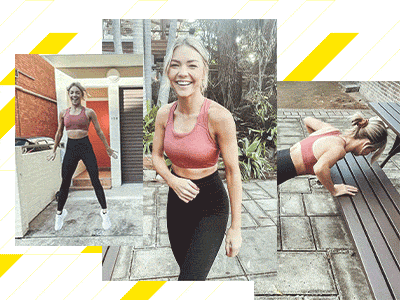 Keep calm and breathe
Meditation is like a massage for your brain. While foam rolling and percussion guns can relieve tension in your muscles, meditation can relieve the stress and anxiety in your mind.
When you're feeling stressed or anxious, your body thinks you're in danger and releases adrenaline which causes the rapid heartbeat, sweating and shaking that we associate with anxiety – this is known as the fight, flight or freeze response.
"For fight, flight or freeze, meditation is the best thing you can do," Sam says. "When you're breathing and using your breath to calm yourself, it's signalling to your brain that you're safe and not in any danger. So it can really help with those overpowering anxieties when you're feeling overwhelmed."
Focus and reconnect
Relaxation meditation can de-clutter your brain and help you feel more focussed and connected to yourself. When you have too many thoughts in your brain, you can feel distracted and lose concentration, potentially resulting in mistakes at work or injuries at the gym.
"I find a huge benefit of yoga and meditation is connecting your mind to your body, so you feel really in your body and you feel really centred and aligned. I think that's so important for mental clarity and focus, to really sit in yourself – that's where all your power lies," Sam explains.
It can be as simple as grabbing your rebel sport yoga mat and breathing deeply for 5 minutes or mindfully stretching to reconnect with different parts of your body. "If you're using yoga and meditation and feeling mentally clear, that's going to dramatically improve your life. I feel like that's a no-brainer," Sam says.
Boost your happiness
If you want to boost your mood without working up a sweat, meditation can help. When you meditate, your brain releases the same feel-good chemicals that are released when you exercise, which help with pain relief and ultimately make you feel good.
"It's when I'm not looking after my physical health that I think I'm more sensitive to becoming depressed," Sam reveals. "Your dopamine levels, your endorphins and all the goodness comes out when you're exercising and feeling good, and feeling in your body."
Like any new sport or exercise, meditation can be hard, so persistence is key. "It is an exercise in itself to train your brain and relax. It's about creating new pathways in your brain," Sam explains.
So, if you need that extra boost of happiness, try training your brain and your body with a quick meditation before or after your workout.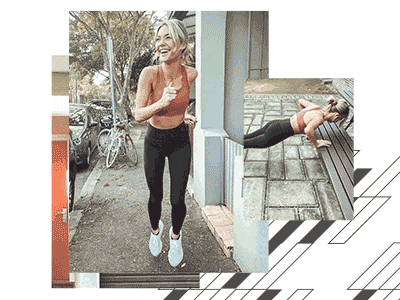 Rest and recovery
If you've ever accidentally snoozed at the end of a yoga class (guilty!), you know that relaxation meditation can help you feel relaxed to help drift off to sleep. This can be a game-changer for those of you that struggle getting to sleep at night.
Sleep is important for recovery as your brain uses this time to freshen up for the next day. "I can always tell when I haven't meditated. My brain gets so overwhelmed and sometimes my sentences don't make sense because my brain hasn't had time to rest and reset," Sam says.
Try going to bed a little earlier to give yourself time to wind down and switch off with bedtime meditation. Whether it's a guided talk you fall asleep listening to or simply focussing on your breath, meditation can slow down those racing thoughts and get you one step closer to snooze-ville. [Include link to article 3 – sleep] For those with kids, there is even sleep meditation for kids available online to help busy little minds unwind for an important night's sleep.
Gratitude without attitude
Gratitude is a form of meditation where you reflect on things in your life without judgement or negativity. "Most times I write things I'm grateful for because in your brain, you can't feel anxious and grateful at the same time," Sam reveals. "It's a really great way, not only to focus on the positives in life but it also helps your brain. You feel more gratitude, you feel more positive and it alleviates that anxiety."
A great way to do this is to start a journal and write down three things you're grateful for. You can also use the journal as a way to de-clutter your thoughts and create space in your brain.
"I love journaling. I always have a journal on my bedside table," Sam reveals. "Sometimes at night it's so good to get the junk out of your head and put it on a page. And it makes you sleep better because your mind isn't racing. I think it's hugely beneficial to my mental health and clarity, and it's great for sleep."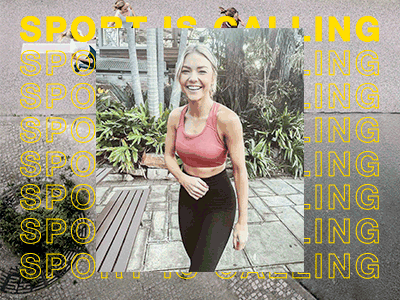 Sam's top tips if you're feeling stressed or anxious
1. Switch off your phone: If you're feeling anxious, social media is not your friend and can make you feel worse.
2. Get moving: No matter how small it is. Get outside and let the fresh air heal you.
3. Do what you love: Find things that make you happy and give you purpose. Read, dance, sing, work out – the possibilities are endless!
4. Reach out: Let your friends and family know if you're struggling with something or you just need an honest conversation.
5. Talk to a pro: If you're feeling depressed or withdrawn, organise an appointment with a psychologist. They have the tools to get you back on your feet.
However you prefer to manage your mental health, consider giving meditation a go or prioritising relaxation in your daily routine. Not only can this help improve feelings of mental wellness, but it can leave you feeling more energised to focus on your physical health too.
*The information on this site is not medical advice. It is generic and does not take into account your personal circumstances, physical wellbeing, mental status or mental requirements. Any medical questions should be referred to a qualified healthcare professional.